Sedation Dentistry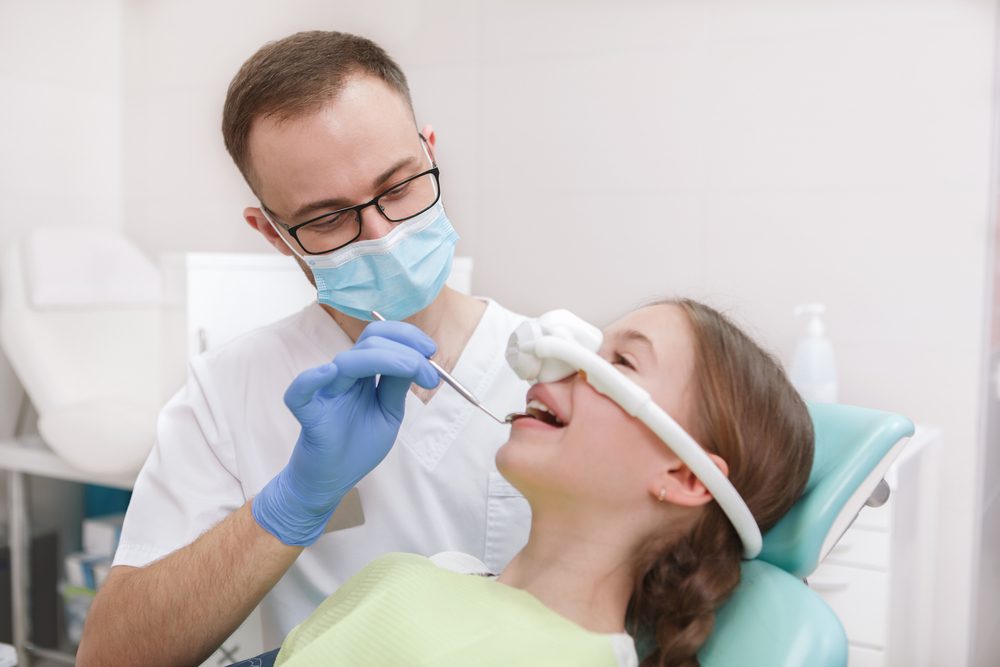 Mountain View Dental is an excellent choice for sedation dentistry in Alamogordo, NM. Our experienced and compassionate staff at Mountain View Dental understand that some patients may be nervous about going to the dentist. We take the time to ensure that each patient feels comfortable and secure. Our office is equipped with state-of-the-art technology, and our staff is trained in the latest sedation techniques. In addition, they take great care to ensure that each patient's safety and comfort are a top priority.
If you have fear and anxiety when visiting the dentist, sedation might be right for you. Our sedation dentistry options are available to help make your dental experience as comfortable and stress-free as possible. 
What is Sedation Dentistry?  
Sedation dentistry is the practice of using medication to help a patient relax during dental procedures. Depending on the type of sedation used and the treatment performed, you may remain conscious or fall asleep during your dental appointment. 
The Difference Between Dental Fear and Dental Anxiety
Dental fear and dental anxiety are two different concepts regarding dental care. Dental fear is an intense fear of the dentist or dental procedures that are usually based on a traumatic experience in the past. It may cause the person to avoid going to the dentist altogether. Dental anxiety, on the other hand, is a more general feeling of uneasiness or nervousness when visiting the dentist or getting dental treatment. This anxiety can cause the person to be anxious before and during appointments, but it is usually manageable with the help of relaxation techniques or sedation.
Mountain View Dental in Alamogordo, NM, understands the fear and anxiety that many patients experience when seeking dental care. That is why we strive to provide a comfortable, relaxing environment to ease these worries. We are dedicated to helping our patients feel at ease and offer various options to reduce their dental fear and anxiety, including nitrous oxide sedation, which allows the patient to remain conscious and in control of the entire experience. We also offer oral conscious sedation, a form of medication that you can take before the appointment to help induce a calming feeling. Our qualified dentists, Dr. Westover, Dr. Slade, Dr. Griffin, and Dr. Peterson, and staff are here to support our patients and provide them with the care and attention they need to feel comfortable and confident in their dental visits.
Types of Sedation  
Our practice offers several different types of sedation to meet the individual needs of our patients. Types of dental sedation include:  
Inhaled Sedation:

We administer this type of sedation using nitrous oxide, or "laughing gas." You inhale the gas through a mask, and patients are conscious but relaxed.

Oral Sedation:

This type of sedation is administered in pill or liquid form and can be taken at home before the appointment. You may remain conscious during the procedure but will be relaxed and comfortable.

IV Sedation:

This type of sedation is administered intravenously and can be used for more complex procedures. You may be conscious during the process but in a deep state of relaxation. 
Benefits of Sedation Dentistry  
Sedation dentistry can provide many benefits for our patients, including:  
Reduced fear and anxiety:

When sedation is used, many patients feel more relaxed and at ease during their dental appointment.

Shorter appointments:

Sedation can help patients relax, allowing for more efficient dental procedures.

Pain relief:

Sedation can also help reduce any discomfort associated with specific dental procedures.  
Sedation Dentistry in Alamogordo, NM
Mountain View Dental in Alamogordo, NM, offers an excellent choice for sedation dentistry. Our experienced and caring staff, state-of-the-art technology, and variety of sedation options make us a perfect choice for anyone nervous about going to the dentist. With our commitment to patient safety and comfort, you can be sure that you will be in good hands when you choose Mountain View Dental for your sedation dentistry needs.
Don't hesitate to contact our office today if you're interested in learning more about sedation dentistry or would like to schedule an appointment. We look forward to helping you achieve a healthy, beautiful smile!